Ball-Valves, Shut-off-Valves, Globe Valves, etc.
Extensive range of stock
Spare parts in stock (seals/hand wheels/sieves, etc.)
Various connection options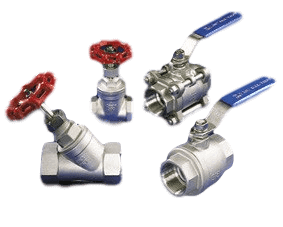 Our range of Valves includes Ball-Valves (1-pc., 2-pc., 3-pc., 3-way) with female thread, butt weld ends or flanges in various dimensions,
Shut-off Valves, Y-Strainer and much more, made of Stainless Steel. Mini Ball Valves or Ball Valves made of brass are available by request.
Valves and Fittings for the Food Industry can be found in the program FOOD-/DAIRY FITTINGS.